---
I. TERMS OF REFERENCE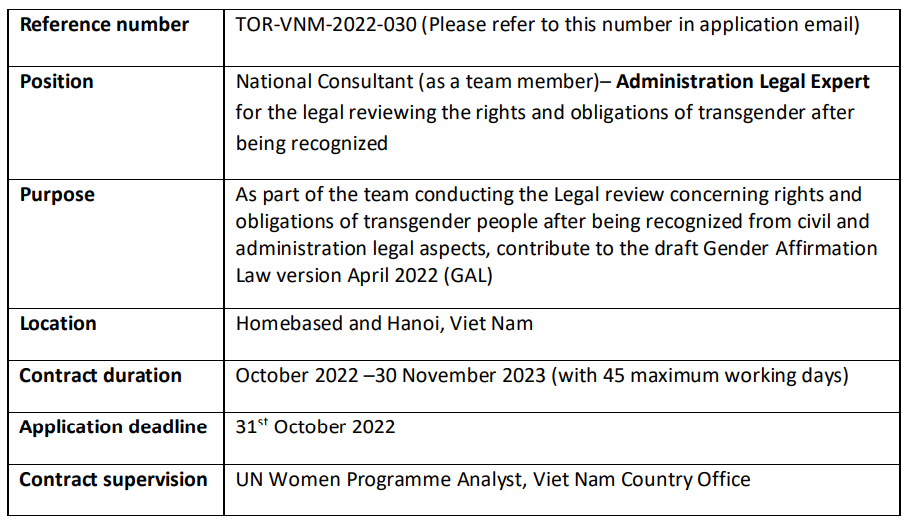 UN Women Viet Nam is looking for a National Consultant (as a team member)– Administration Legal Expert for the legal reviewing the rights and obligations of transgender after being recognized.
II. SCOPE OF WORK AND EXPECTED TASKS
The national consultant will work under the technical guidance of the team leader. The consultant will maintain close communication with focal points at UN Women, MOH's Legal Department, Ministry of Justice (MOJ) as well as other key stakeholders including the Civil Society Organization (CSO) coalition for transgender rights including, but not limited to, Institute for Social, Economic and Environmental Research (iSEE), Center for Supporting Community Development Initiatives (SCDI), and It's T Time.
Under the leadership of the Civil Legal expert (Team leader), the Administration Legal Expert will be expected to carry but not limited to the following tasks:
Develop the workplan and outline for the report.
Lead on developing a literature review which will focus on transgender rights and obligations from administration legal aspects to identify administration legal gaps and provide recommendations to be incorporated in the draft GAL.
Work in team with the team leader, and in collaboration with stakeholder coordinator, will facilitate, collect, and analyze all data gathered from qualitative interviews and quantitative surveys, if need be.
Attend and, if required, present at other meetings, consultations and facilitate discussions at the request of MOH and UN Women, in particular consultations that might be undertaken by other stakeholders on civil, administration aspects of the GAL.
Consolidate feedback from the consultations and data collection exercises into the legal review in order to have the final text ready for submission to MOH and UN Women in accordance with the timelines below.
Review and finalize the report after development together with other team members, and in consultation with stakeholders.
Click here for job description: 20221024-administrative-review-expert-moh
Candidates are requested to send the following documents in separated attachment in one application email to procurement.vietnam@unwomen.org
Letter of interest explaining why you are the most suitable for the work and your proposal for the number of working days
Signed Curriculum vitae with contact details for 3 references
Personal History Form (P11). The P11 Form can be downloaded from the following website: http://asiapacific.unwomen.org/en/about-us/jobs;
Two reports legal review on rights and obligations of LGBTI, or gender equality or related areas of which 01 in English and 01 in Vietnamese as evidence of written skills.
Financial proposal specifying the total lump sum amount (breakdown of the daily professional fee in local currency and proposed number of working days). The candidate does not to include the travelling cost as UN Women will follow the EU-UN cost norms and UN Women travel policy.
Deadline for Application:  31 October

2022
Kênh kiến thức kỹ năng, phát triển bản thân, hướng nghiệp, blog nhân sự
Recent Job
Hanoi, East Asia, VN Ho Chi Minh, East Asia, VN